Researches
---
The main goals of this project are to support peer-reviewing process and to restore and retrieve key concepts with multimedia information for construction of e-teaching portfolio. We will develop content tools for the reviewers allowing them to multicast video, images, and text from tablet PCs and PDAs, which are distributed over networks.
The project developed the system can assist the peer-reviewers and students monitors to review the class rlectures and to record and retrieve the reviews comments on video lactures. The following fuctions are realised by use of multuicast networking technology. Figure 1 explains the overview of this project.
1) Collecting comments effectively from peer reviewers outside and students in class by tablets PC over networks. Both peer reviewers and student monitors can check the multi screens and write comments and annotation on the video lectures and power point slides by use of tablet PCs.
2) Develop application for recording and storing reviewers' annotations to streaming class lecture as time sequence data of pen-tip coordinates. The annotated lectures are archived for database to assess the quality of teaching/ learning as e-teaching portfolio.
Fig.1 Overview of FD Commons
We designed and developed an Online Peer Reviewing Process (FD Commons) to gain new insights regarding what is good practice for learning and teaching in higher education. We also investigate the positive and negative effects of mobile computing for peer reviewing process in pilot study of our prototype system. It also has the function to realize and build teaching commons to conduct "lesson study (Jyugyo kenkyu)" and to share teaching/learning knowledge for educational improvements.
Fig.2 Writing Comments on Tablet PC (FD Commons)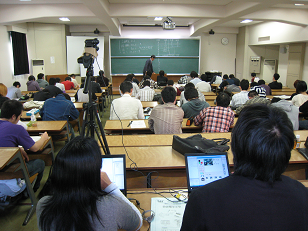 Fig.3 Reviewing with Tablet PCs (FD Commons)
FD Commons was developed by use of DirectShow and SampleGrabberk technology. In the pilot studies, we investigated the effects and operability of online peer reviewing system on five reviewers. The reviewers were all teachers who are faculty member at Tokyo University of Agriculture and Technology. One was instructional designer who belonged to center of educational development (faculty developer). The others were academic staffs majoring computer science and mechanical engineering. Totally, nine trials were conducted from July 2008 to January 2009. All reviewers who used "FD Commons" had no problem with system operability and their views of accessibility. In the set of each trial, two reviewers checked the media usability, interface design, and effectiveness of "FD Commons" in the situation.
Fig.4 Recording Video of Class Lecture with of Annotation
Fig.5 Summary of Snapshots (Highlights of Class Lecture)